Spike Club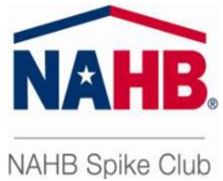 Membership development is vital to the future of any association. The continuous influx of new members and the retention of current members are critical for maintaining NAHB's powerful voice in the homebuilding industry. Your membership is one of the most valuable resources for building your association. Just as a nail in the home building industry is essential to the development and strength of a building, volunteers who recruit and retain members play a vital role in the growth, development and stability of an association – they are our "Membership Champions."
Back in 1953, in an effort to recognize and reward dedicated members who worked to recruit, involve and retain members, the NAHB Spike Club was created. Over the years, the number of Spike Club members has grown to more than 16,600 — including Builder, Associate, Affiliate and Peer members.
Becoming A Spike
You become a Spike by earning Spike credits for recruiting and retaining members. You earn 1.0 Spike credits for recruiting new Builder or Associate members. You earn 0.5 Spike credits for recruiting new members to the Sales and Marketing Council.
You earn 0.5 Spike credits if the member you recruited renews his or her membership.
Only individuals can earn Spike credits. Credits can be awarded to members, or to employees of members, but not to companies.
You may not sponsor or earn Spike credits (new or renewal) for your own membership.
If you transfer membership to another local association or changes companies (employers), you may transfer your Spike credits by written request to the NAHB Spike Club.
As you earn credits, you work your way up the Spike Club levels. The Spike Club includes different levels of achievement for the amount of credits you earn. You will move through three phases as you move up the Spike Club levels.
Spike Candidate or Tack (1 – 5.75 credits) You are considered a Spike candidate or Tack when you earn your first recruitment or retention credit.
Spike (6 credits) To become a Spike, you must earn 6 credits. Prior to September 2012, you had to earn at least one new member credit per year to maintain Spike member status. Beginning in September 2012, you are no longer subject to that rule and will not lose you credits if you experience a period of non-recruiting.
Life Spike (25 credits) A Life Spike is a Spike member who has attained twenty-five total credits. You are a "Spike for Life".
Additional Achievement Levels
Beyond the Life Spike level, you can work to achieve the following levels each with its own special recognition:
Green Spike (50 credits)
Red Spike (100 credits)
Royal Spike (150 credits)
Super Spike (250 credits)
Statesman Spike (500 credits)
Grand Spike (1,000 credits)
All-Time Big Spike (1,500 credits)
For a list of Spikes and their current credits – Watch for the monthly BCA e-mail report or contact the BCA office at 208-377-3550.

Spike Club Chair: Kari Anderson – kanderson@mountainlanddesign.com